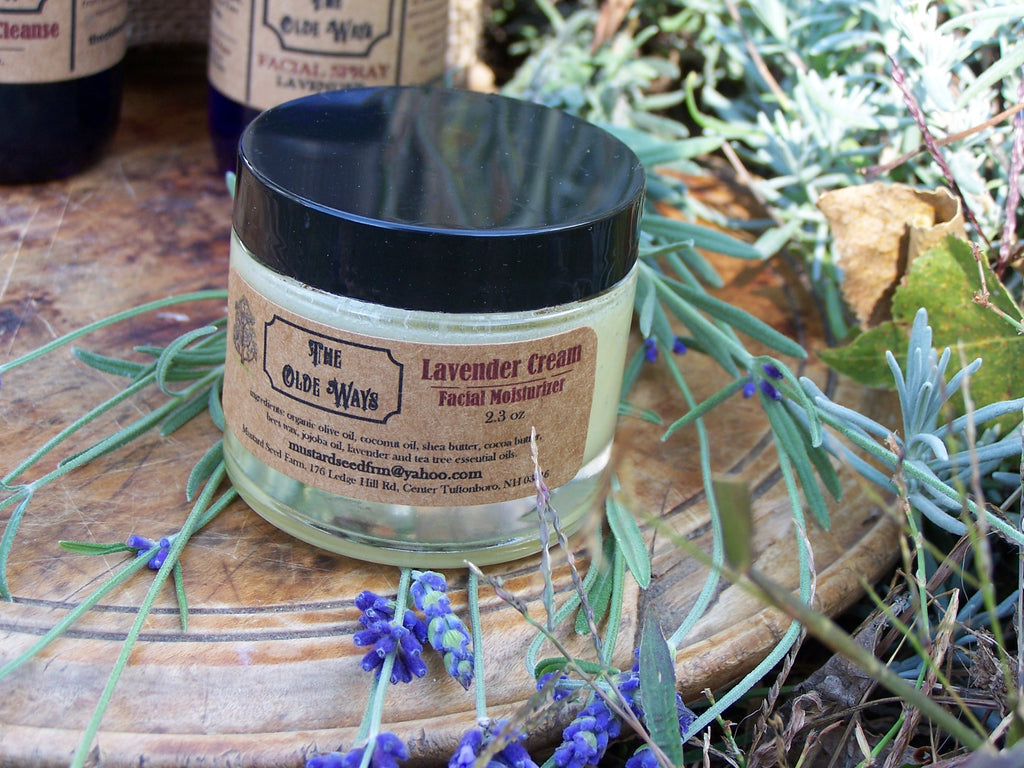 Lavender Cream
A heavenly Lavender facial moisture cream that can be used all over the body. A deep rich moisturizer that melts into the skin leaving it soft, supple and youthful. Made especially for sensitive skin and can be used on all skin types. The all natural oils and butters rejuvenate and add elasticity to the skin. Lavender and Tea Tree add antibacterial properties that keep your skin clean and refreshed and studies have found that they
 contain powerful antioxidants that can fight against the harmful effects of pollutants on the skin. The aroma lifts the spirits and relaxes the mind, relieving stress and anxiety. 
Ingredients:  Lavender infused organic extra virgin cold-pressed olive oil, organic unrefined coconut oil, organic shea butter, organic cocoa butter, local NH bees wax, jojoba oil, essential oils of Lavender and Tea Tree.
 2 oz. glass jar
For a complete skincare regiment, use our Facial Cleanse and Facial Spray, followed by the Lavender Cream. All three are included in our Skincare Collection with a nice drawstring burlap bag. Save $6.00 and get free shipping when you purchase the Skincare Collection.
FREE SHIPPING on all orders over $50.00